Why are German products so popular, especially in the technical and B2B sectors?
"Made in Germany" is a seal that stands for the high quality of products worldwide. This is achieved through the use of the latest technologies, but also through well thought-out quality management systems and the consistent optimization of production processes.
The importance of product quality, especially for high-value consumer and investment goods, is undisputed today and ultimately determines the success or failure of a brand.
Many manufacturers have recognized this importance. However, important questions arise:
What quality do other companies offer? How can I gain a competitive advantage?
How to increase product quality and reduce "quality costs" at the same time?
In most companies, the data required for quality management often comes from internal sources for practical reasons, as this information is easily accessible. However, for many reasons, the quality perceived by customers often differs significantly from the company's internal sources. For this reason, quality problems are often detected late, wrong priorities are set, unnecessary warranty and goodwill costs are incurred, and customers are also annoyed.
TEMA-Q's studies make the customer the benchmark for quality management. All internal quality efforts can be focused on the factors relevant to the customer with Deep Dive CX Products. At the same time, this can increase product quality as well as reduce quality costs. How does it work?
The customer as quality manager
Deep Dive CX Products supplements the company's internal quality management systems with the external customer viewpoint. Based on intensive customer discussions, a continuous and loss-free flow of information is established from the customer via management to the specialist departments. Integration into the company's internal defect rectification process enables quality problems to be identified and rectified immediately.
Method
Basically, Deep Dive CX can be described by the following 6-step process:
1. Data collection:
Deep Dive CX is based on detailed, high-quality interviews with product users. Using a special scenario technique, the products are examined from various perspectives in a structured but open survey. The interviewees can freely formulate their collected experiences here without any specifications. The result is detailed and meaningful experience reports that reflect the product quality from the customer's point of view.
Depending on the request and scope of the study, users of competitor products may also be considered for comparison purposes.
2. Transcription:
Since too much of the content of the often complex customer statements would be lost in a conventional interview, the testimonials are digitally recorded in Deep Dive CX during the interview. After the interview, all quality-relevant statements are recorded in their original wording and are available for analysis.
3. Coding:
Although the customer experience reports achieve astonishing accuracy and comprehensiveness, incompleteness cannot be avoided. In addition, there is a lack of structure caused by colloquial language and spontaneity, as well as completely different descriptions of the same or similar problems.
The coding of customer statements in a suitable code scheme is therefore of particular importance. With the help of specially developed software tools, the testimonials are analyzed by experts and coded in a mostly multidimensional system. The distribution of defects, typical defect patterns, responsibilities and many other questions can be answered easily, flexibly and efficiently on this basis. Fig. 1 shows examples of possible dimensions that can be defined for the coding of customer testimonials: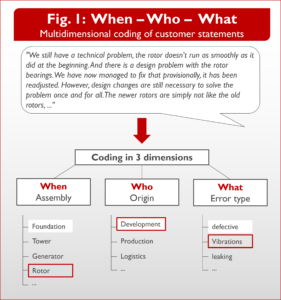 4. Quality analysis:
One of the core ideas of Deep Dive CX is its implementation orientation: on the one hand, quality problems are reflected to the management; on the other hand, the departments can derive efficient measures for quality improvement from Deep Dive CX. To ensure this, the quality data is made available in a hierarchically structured information system (Fig. 2). This information system is our specially developed analysis tool ClaralytiX.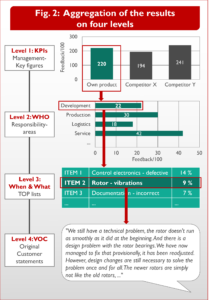 Level 1: Higher-level quality indicators are used as control variables for management. This enables reliable monitoring of product quality.
Level 2: At a second level, all management metrics are broken down by area of responsibility to clearly address responsibilities for quality issues.
Level 3: Problem focal points are formed to identify common individual problems.
Level 4: For error correction in detail, all customer statements are made available in ClaralytiX in their original wording. This means that all customer problems can be analyzed unfiltered, compared with internal quality notifiers, and suitable improvement measures can be initiated.
5. Improvement measures:
Measures for quality improvements are generated at the responsible specialist levels on the basis of Deep Dive CX and data from internal quality management.
Example of one of the defects identified on the products:             
During a study of a valuable, complex product, it was discovered (among other things) that a part of the product no longer functioned properly under a certain weather condition. This defect was never discovered during internal quality checks but appeared to many customers. The design was then promptly adjusted, and the amount of subsequent corrective action was significantly reduced.
6. Measures controlling:
After the implementation of the improvement measures, their success is monitored with a renewed customer survey.
Objectives and benefits
Focus on the quality problems that are relevant from the customer's point of view
Detailed quality analysis based on customer experience reports
Both strategic data for management as well as concrete detailed information for the specialist levels
Transparency and authenticity of customer statements facilitate the implementation of measures
Comparison with competitive products
Conclusion
Developing great products is one thing, but the crucial question is: Do they reach the customer? It's the same with quality; it adds value to the company if it meets the customer's expectations and if this quality is also perceived by the customer.
If you have questions about Deep Dive CX Products, would like advice on quality studies, or want to get more value from your ISO certification, click here to schedule an appointment, or contact us.
More interesting articles in TQ Magazine
Authors:
Martin Plötz – CEO
Jacqueline Pirkelbauer – International Sales Director