Our History
TEMA-Q Technology and Management for Quality was founded in 1990 by a former quality manager in the automotive industry with only a handful of employees.
In the following years, TEMA-Q gained many new customers, grew steadily and moved into the spacious building of the historic Okermühle on the outskirts of Meinersen (NI). In the meantime, approx. 80 employees are working here. Besides the management and the project managers, these are primarily the interviewers of our own CATI studio, the data collectors, the coders, IT specialists and the accounting department.  Trainees, e.g. as specialist for market and social research or specialist for office communication, are also part of our regular staff for the duration of their training and are usually gladly taken on after graduation.
Since 2008, our data acquisition department has also been offering its services externally as TEMA-TEXT.
While originally the focus was still strongly on quality assurance in the automotive industry, we have been offering a wide range of innovative customer experience and market research solutions for numerous industries for a long time and have become specialists in customer experience management (CEM or CX for short).
In doing so, our aim remains to consistently align our processes to deliver descriptive and tangible actionable results.
At TEMA-Q, market research is not limited to the collection of mere facts and figures. With our experience reports in the original wording (Voice of Customer), we also uncover causes that are not apparent at first glance. Important KPIs can thus be worked out and your company can act in a customer- and success-oriented way.
Our Mission – our Vision
Knowing what customers want and what they think has never been more important. It is the basis for companies of all sizes and industries to make the right decisions for their business strategy.
Our Mission
We support companies worldwide in setting up, designing and operating innovative customer feedback systems. The basis is formed by experience reports that offer unique transparency, detail and authenticity. Coupled with our analysis methods, we provide our clients with a holistic picture. This enables each division of the company to react precisely and efficiently to the wishes and problems of its customers.
Our Vision
Our vision is to be the leading provider of intelligent customer feedback systems and to offer our clients worldwide the opportunity to become more successful and thus improve customer satisfaction, making their employees happier and thus the world a little bit better.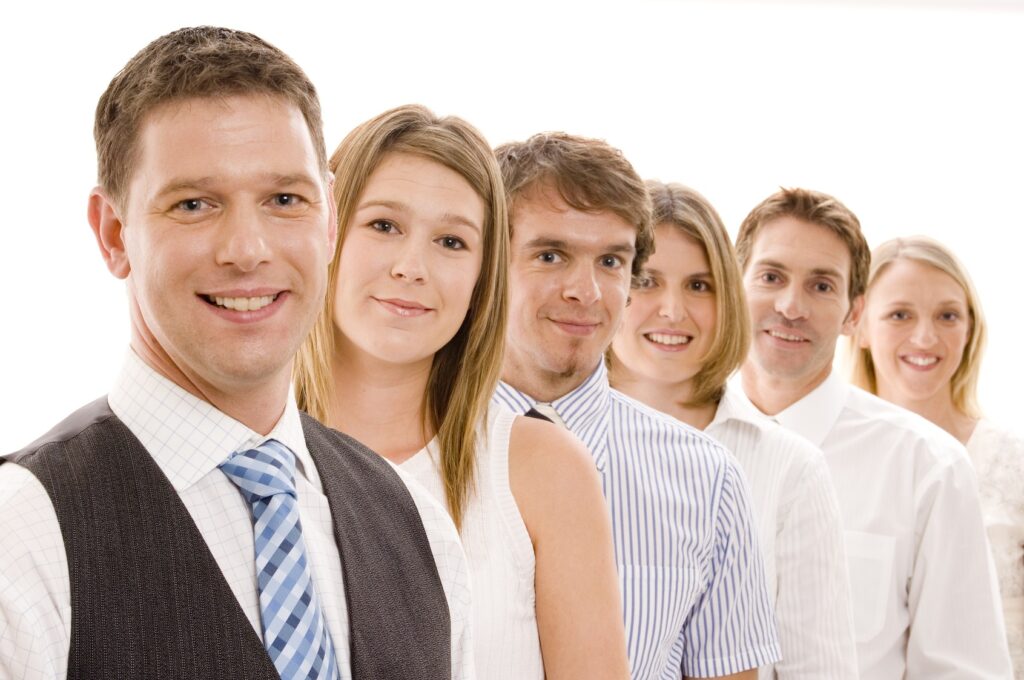 Our Quality Promise
The quality of our projects depends on the quality of our employees. The intensive telephone conversations with customers, in which we capture the Voice of Customer (VoC) in as much detail as possible, require sensitivity, excellent manners and a basic knowledge of the industries in which we work.
That's why, from the very beginning, we at TEMA-Q have placed special emphasis on carefully training our new employees. They are intensively prepared for their tasks, and project support is always available to answer individual questions.  Long-standing employees are also continuously trained and have extensive industry knowledge in the field of our studies, from which our customers benefit, especially in the area of study design.
It is important to us that this is not only done in project management and control, but also for all employees. In this way, our services always remain at the cutting edge of technology and methodology.
Our project management consists of a team with technical, business management, social science, natural science and marketing backgrounds. Our clients benefit from this interdisciplinary know-how, which we put together to suit each project.
After all, good market research also requires high-quality data collection. This can only be achieved with well-trained and reliable interviewers. Therefore, TEMA-Q works exclusively with well-trained and long-term employed interviewers.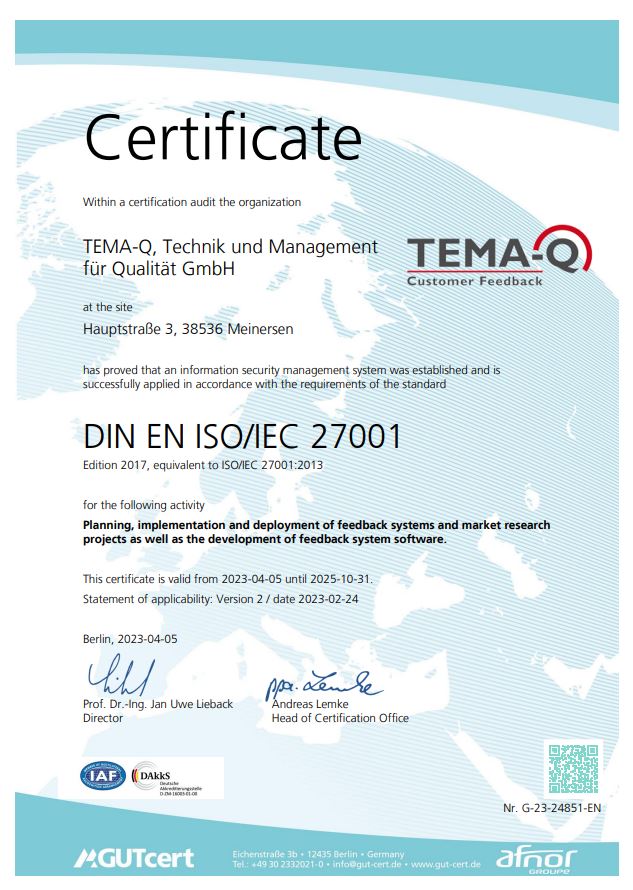 Certified according to DIN EN ISO/IEC 27001
DIN EN ISO/IEC 27001 is a security standard that specifies security management procedures and comprehensive security controls. This certification is based on the development and implementation of a rigorous security program. This includes the development and implementation of an Information Security Management System (ISMS) that specifies how TEMA-Q continuously manages security in a holistic and comprehensive manner. This international security standard specifies that TEMA-Q complies with the following:
We systematically assess our security risks, considering the impact of threats and vulnerabilities.
We design and implement a comprehensive set of IT security controls and other forms of risk management to address enterprise and architectural security risks.
We implement an all-encompassing management process to ensure that IT security controls consistently meet our IT security requirements.
Certification is performed by independent external auditors. Compliance with these internationally recognized standards and guidelines is a testament to our commitment to information security at all levels of TEMA-Q.
Information security and compliance
We consider information security to be an indispensable prerequisite for the quality of our solutions. A lot depends on the information security of our solutions. We express this through the following voluntary commitment:
We commit to comply with the specified information security regulations of stakeholders and legislators and to use the information provided by authorities and other organizations to continuously improve information security.
We support all relevant managers in enforcing information security in their areas of responsibility.
We train all employees who carry out activities in the area of application of information security so that they can act safely and consciously in the sense of information security.
We create the necessary technical and organizational conditions that enable us to live information security.
We want to ensure that information security is not seen by all of us as "annoying extra work", but as important and essential for our customers. And that at all times – despite all the rules in this area – we must turn on our heads and not rely on the fact that following the established rules will suffice in every situation. If we are faced with the choice of making something really secure or following a rule, we prefer to make it really secure – and then adjust the rule if necessary.
We want to get better and better in our information security.
Our Compliance Business Principles support us in acting responsibly, appropriately and in compliance with the law in our daily work and especially in critical situations.
You can find out more about information security and compliance at TEMA-Q via the following links: