About the study
The present study was conducted as a telephone survey among approximately 350 randomly selected motorists. In addition to quantitative data, qualitative components were also integrated into the survey in order to obtain information on the background to the selection of car financing. As "Voice of Customer" (VoC), these are an important component in many of TEMA-Q's products.
Starting point
Today, financing is an integral part of the car-buying process, whether for new or used cars. This makes vehicle financing an important source of revenue for manufacturers, alongside sales and service, and it is also important for customer loyalty.
Around one in three automotive customers has financed their vehicle. This is the result of a study conducted this year by TEMA-Q among around 350 private car owners. Among other things, the survey looked at the type of financing, where financing was provided, information channels, potential problems with financing and the ideal car financing in the future.
The majority of customers who have not financed their vehicle are not considering car financing in the future. Customers primarily justify their decision not to finance by saying either they do not want to incur debt in the future or prefer to pay in cash.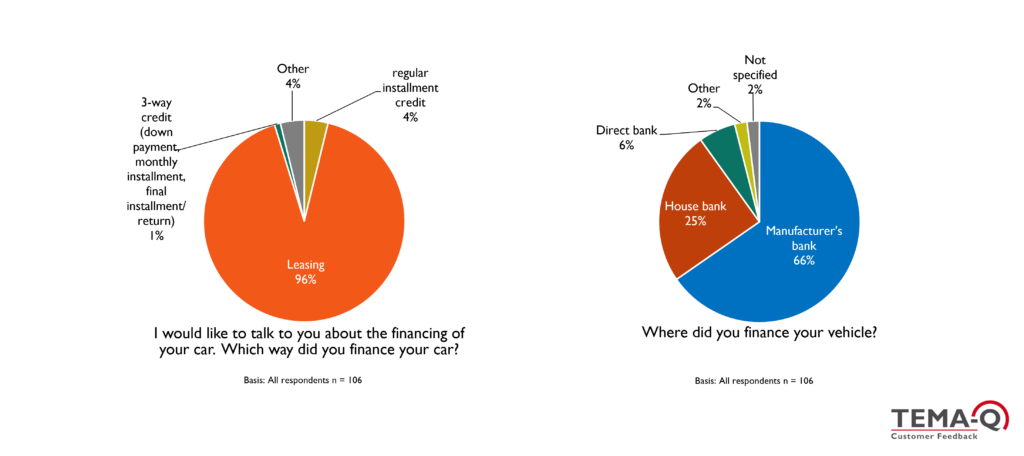 Financing and customer loyalty
Financing via their principal bankers is particularly important for manufacturers, as it ensures additional brand loyalty as well as additional income. Unless the financing is paid off, the vehicles usually have to be returned to a dealer, creating a significant barrier to switching. In addition, a sympathetic assessment of existing damage at the time of return can promote customer satisfaction. And in this respect customers are naturally more likely remain loyal to the brand.
Few problems with financing
Overall, the study reveals a high level of satisfaction with the financing arrangements concluded. At 89%, the clear majority of respondents were satisfied with the financing. Only 7% were dissatisfied. The question of whether there were any problems with the financing was answered in the negative by the majority of respondents. Only in isolated cases did respondents state that there were problems with bureaucracy, excessive costs or expensive defect rectification.
"That small paint scratches were just deducted, disproportionately high in comparison."
"I really have a problem there, and that is, that if you want to make special repayments, it is very complicated."
Comparison of financing offers rather rare
In the run-up to the financing the majority informed themselves in personal discussion about possible financing models. 76% informed themselves about the salesman or dealer and 29% about the house bank. Only a few went the route of online comparison portals or online banks.
The majority (58%) did not compare offers before financing, which is quite surprising given the sums financed. Obviously, for these buyers, the banks or manufacturers manage to design their offers in such a way that a simple comparison is difficult or seems too costly or unnecessary for the customers.
Buyers comparing different offers (42%) drew on offers directly from the manufacturer, dealers and house banks or obtained information from online comparison portals. Customers used the interest rate, costs, term-to-interest ratio and high flexibility in particular as comparison criteria.
"I had the dealership make me an offer for possible financing and also asked my bank what it would cost to take out the sum as a loan. And that's where the dealership was cheaper."
"We compared the term, the costs, the annual interest rate, and what it would be just in the month then, what the monthly rate would be then."
Important aspects when taking out car financing
Particularly important to the respondents when it comes to financing are the costs and on-site advice. But the term, flexibility and return agreements also play an important role. The down payment and the final installment tend to play a subordinate role in financing, as can be seen from the following figure.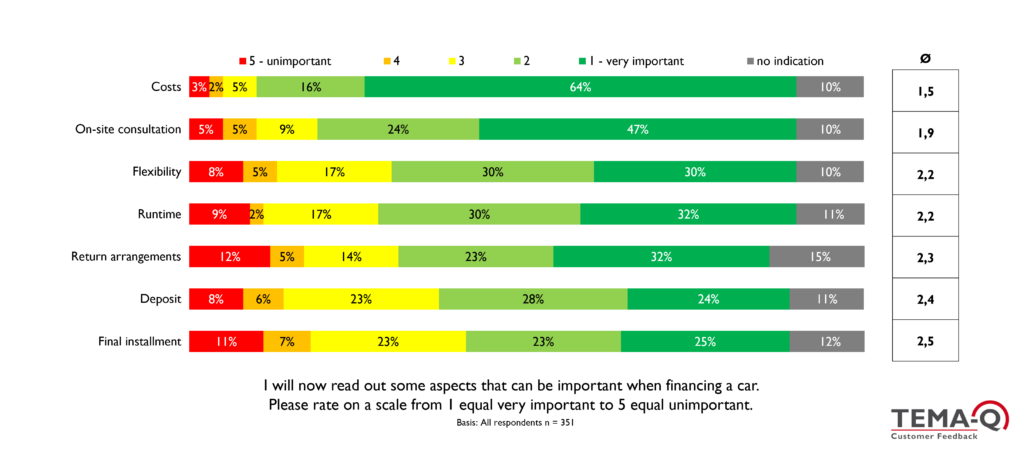 Important aspects of car financing in the future
As part of the survey, all participants were asked how they envision ideal car financing in the future. The main focus of the respondents, whether they have financed in the past or not, is on flexibility in car financing. Respondents want flexibility, especially regarding terms, but also in terms of mileage, installment amounts, and repayment terms. Other important aspects in ideal car financing in the future are the availability of replacement vehicles at short notice and a spontaneous change of model within the term (see the following figure).
"The flexibility, of course, for one thing. So I guess I think a down payment is already, I'll say now, sensible. And as I said, the most important thing for me is actually flexibility, that even if the contract now runs for 4 years or 3, that I can then say at any time, well, I can also redeem it at 100 percent."
"So I do think that replacement vehicles or things like that during repairs or warranties or things like that will, have to, should play a role."
"I would find it important that one could change relatively flexibly. Because in our case, for example, we now have a family car, and we are currently considering, because of the fuel prices, whether we absolutely still need it, because the children are already older and no longer drive with us. So you could just change a model more quickly and, yes, depending on developments, maybe switch to an electric car or something. So I think flexibility is the most important thing."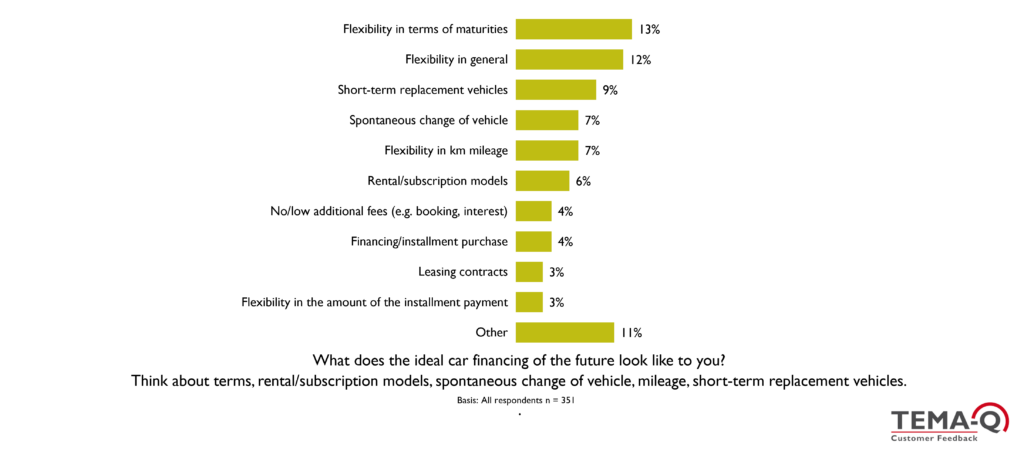 Customer centricity is also becoming more important in financing
This study was intended to provide a rough overview of what drivers think about car financing. Customers' attitudes change over time and depend on many factors such as age, customer type, financing needs, etc. Especially when looking at your own customers, you can go into much more detail in order to optimally align your own products with your own customers and thus gain a competitive advantage. TEMA-Q offers comprehensive customer centricity products such as Deep Dive CX Products or Deep Dive CX Service.
Authors:
Nadine Barkowski – Project Manager, TEMA-Q GmbH
Martin Plötz – Managing Director, TEMA-Q GmbH